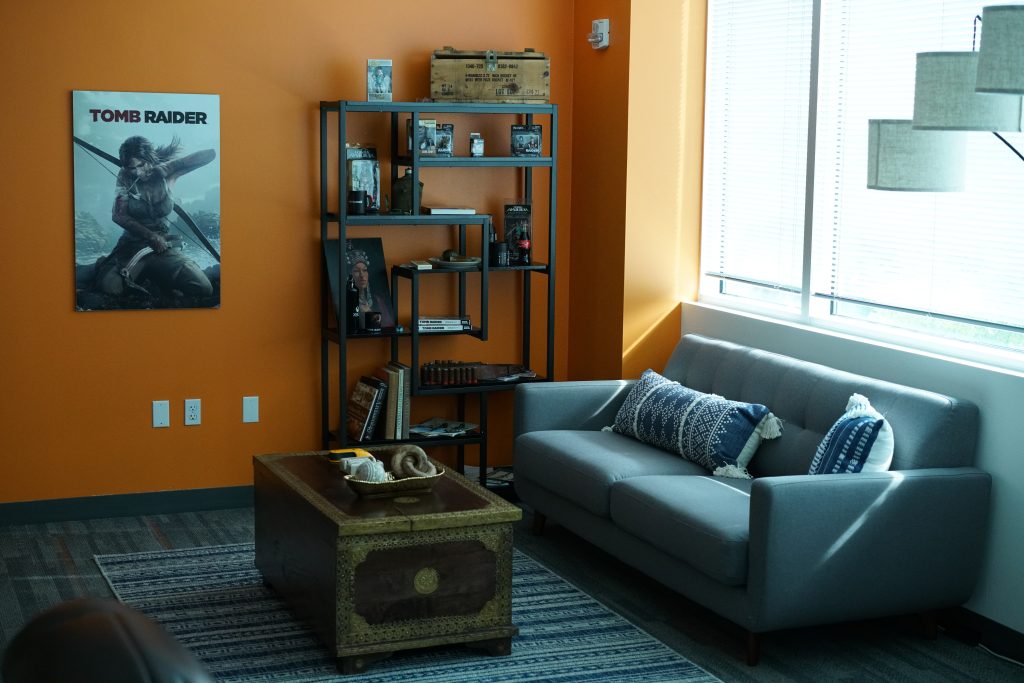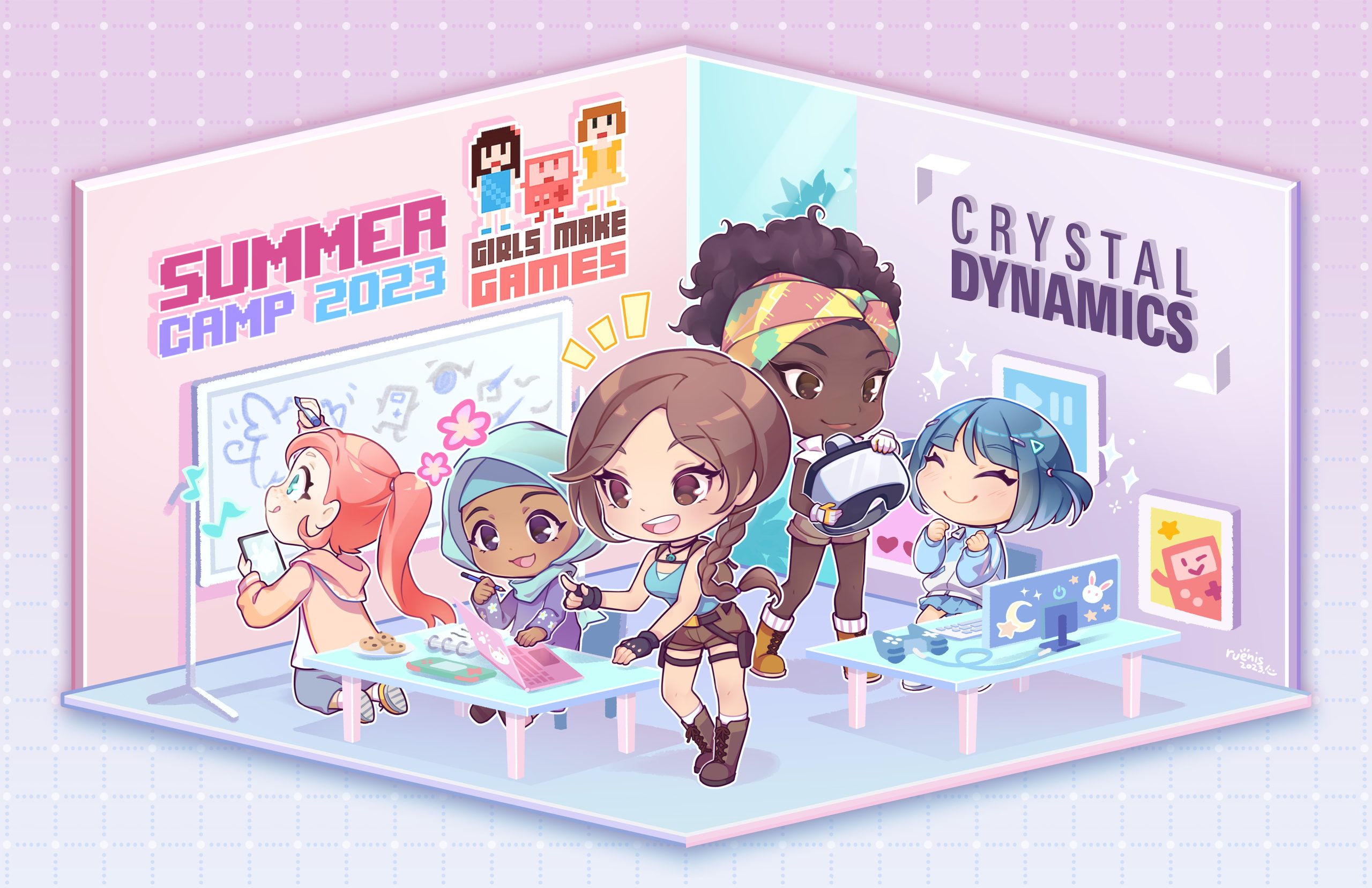 Girls Make Games Summer Camps Return to Crystal Dynamics Studios!
A NEW GROUP OF CAMPERS BUILT GAMES FROM SCRATCH AND ENJOYED DAILY SPEAKER SESSIONS FROM THE WOMEN AT CRYSTAL DYNAMICS AND ITS PARTNERS.
A little girl in a tie-dye shirt leans against a standing desk that's half her height, listening as her friend shares progress on the game she's making.
Somewhere else, another girl doodles character designs on a whiteboard – different colors indicating each characters' elemental affinity.
And somewhere else still, a group of girls duke it out in a fiery game of Super Smash Bros. After all, game developers need a break from the workday – even the 8-to-18-year-olds who are building some of their very first games as part of the Girls Make Games summer camp.
Last month, Girls Make Games (GMG) campers congregated at our San Mateo and Belleveue studios, and over three weeks built their very own video games from scratch. GMG is an organization that offers in-person and virtual game-making workshops and summer camps, and this year's camps marked the second time our studio has had the honor of hosting them on our campuses.
It's the type of resource for young girls that didn't really exist before – a need that sisters and founders Laila and Isra Shabir decided to address when they launched Girls Make Games in 2014.
"We started GMG to create a space for girls who love video games to come together and explore game development together," Laila and Isra said. "When we first launched the summer camp, it was meant to be a one-time thing. Between tearful goodbyes and emails from parents telling us how their daughters had discovered their passion, or that they had found "people just like them!" it became abundantly clear that there was a real need for all-girls programs like GMG."
Now – nine years later – the organization has reached more than 23,000 young girls through its summer camps, workshops, books, and games; 4,300 girls have received scholarships and financial aid to participate; and 500 GMG Fellows – college students looking to break into the industry – have benefitted from the mentorship and networking opportunities the camps provide. (Check out the 2022 GMG Impact Report to see the full breadth of the group's impact, including the funding and publishing of campers' projects on Steam, Google Play, PlayStation, and Nintendo Switch!)
Supporting causes like Girls Make Games is integral to who we are as a studio. A note from Studio Head Scot Amos:
"There are some great lines in fiction about what we say versus what we do… and at Crystal, we believe both are important. What one says matters, and what one does matters – they must go hand-in-hand to show one's authentic self.

Crystal strongly believes that great ideas can come from anyone, anywhere, at any level… fans, senior developers, fresh minds just starting out in this industry. Passion is the influential element that isn't a learned habit or a trained skill; it's an intrinsic internal motivator that is infectious and can be the difference-maker in crafting enduring experiences that create emotions in our players.

The GMG squad exudes that passion – that optimistic sense of creating to make the world a better place. As a company, Crystal strives every day to achieve the extraordinary and live the dream while doing it. We see this natural spirit in the GMG crew and campers, and living by our own values, we want to take every moment to encourage and empower those behaviors in the next generation of game-makers."

Studio Head Scot Amos
If you're a game developer, and you'd like your team to get involved with Girls Make Games, the organization recently launched its 501c3 GMG Scholarship Fund offering financial aid to aspiring college students, which you can donate to. If your studio wants to go even bigger, the Girls Make Games team invites other game development studios to host workshops and summer camps too! (It is, after all, incredibly cool as a kid to attend a summer camp inside a game studio.)
"We've always prided ourselves in being the summer home for girls who love all things gaming," Laila and Isra said. "But we're secretly all about helping our campers find their superpowers – their voice and their confidence in being themselves. And the real change we are working toward is showing the world how amazing girls and women are at game dev, and how much we're missing out on by not inviting them into this cool club we call the games industry!"
A special thank-you to the incredible women at Crystal Dynamics and our friends at Formosa, Kepler Interactive, The Initiative and beyond, for offering their time to speak to campers about their roles!
Featured Art by Ruenis.