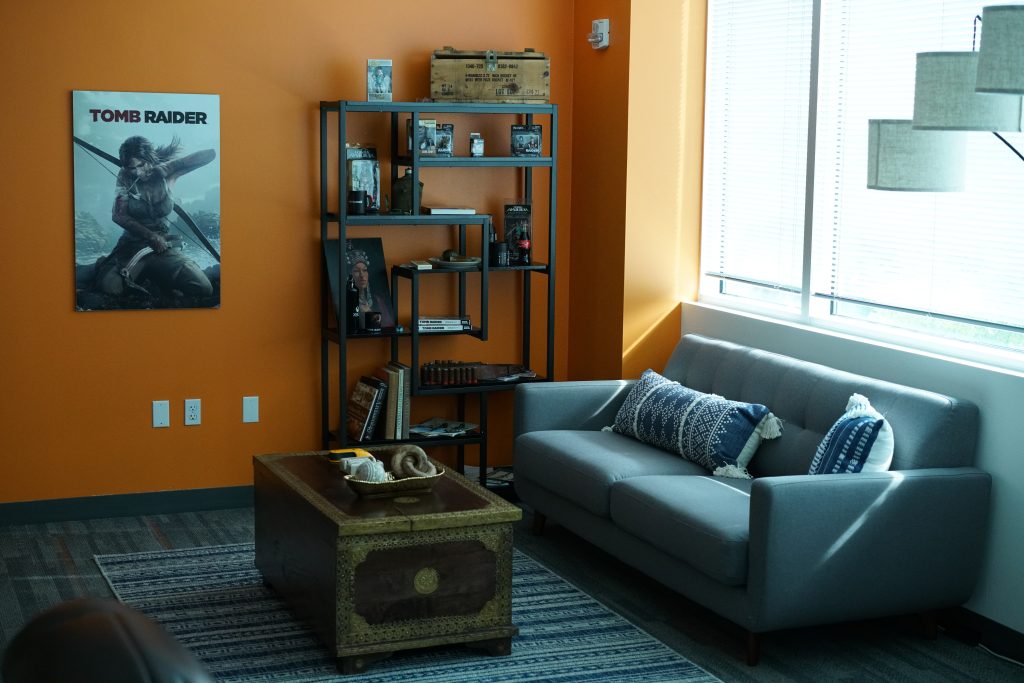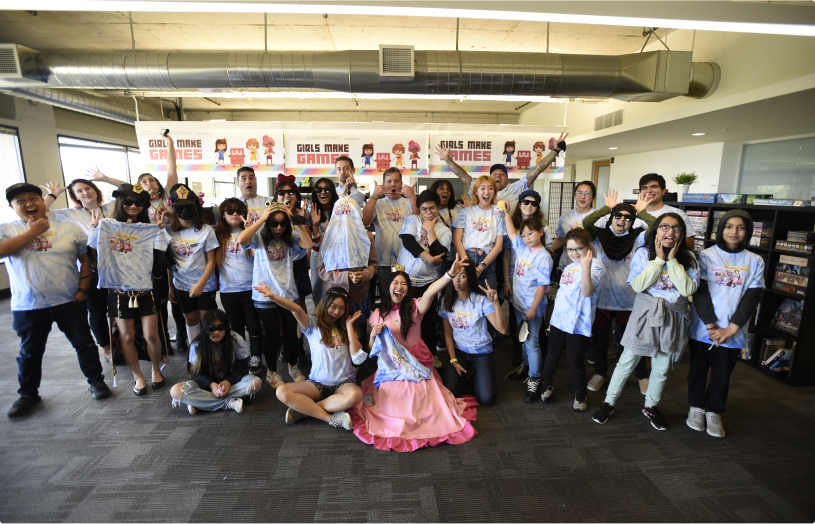 Crystal Dynamics Hosts 2022 'Girls Make Games' Summer Camps

Girls Make Games Summer Camp 2022
This July we were honored to host LearnDistrict and Girls Make Games for their 2022 GMG Summer Camp. The hybrid virtual and in-person camp hosted 128 "junior devs" (40 of whom attended at our San Mateo and Bellevue locations), across 53 cities, mentored by 47 camp counselors. The camps resulted in the creation of 42 game demos by young talent we fully expect will challenge and change the future of the video-game industry.

Since 2014 Girls Makes Games has reached over 6,000 girls through workshops and camps and offered tutorials and resources to over 20,000.
Crystal Dynamics established close ties with Girls Make Games in 2019 through our donation of 200 copies of 100 Women in Gaming: Professionals of Play, and more recently with an art print sale to celebrate Tomb Raider's 25th anniversary. The fundraising effort resulted in $23,000 in donations to the Girls Make Games Scholarship Fund, which provides camp tuition for those in need.
Why are programs like Girls Make Games so important? According to a 2022 study by the Entertainment Software Association, more women over 40 play games than boys under 18. Additionally, women make up over 45% of the gaming population but less than 30% of game industry professionals.

"Crystal is an inclusive, diverse culture founded on fairness, equity, and opportunity," said Studio Head Scot Amos. "We pride ourselves on breaking industry norms and championing perspectives across all groups and cultures. We understand the impact games have on society, and the responsibility that comes with it. If we don't have diversity in gender, we limit perspectives that can both entertain and change the world."
"Working with Girls Make Games is a chance for us to push boundaries and break old industry norms by creating opportunities," said Meagan Marie, Director of Community & Social Media at Crystal Dynamics. "We want to show these young ladies that working in video games is a viable and rewarding career that can impact and inspire others."

The three-week Girls Make Games Summer Camp curriculum is designed to give participants a holistic view of making video games, both through hands-on development and learning from guest speakers. Broken into teams, by the end of the camp each created a fully functional game demo.
Week 1: The first week participants learn the ins-and-outs of the game engine (Construct 3), and form teams based on varying skills each can bring to the table. The teams then brainstorm and formalize the scope of their game demo.
Week 2: Teams start writing dialogue, creating art, laying out level design, and choosing music!
Week 3: The final week is all about polishing, testing, and practicing presentations.
Having the campers and staff in our office for three weeks was invigorating and inspiring, and we were honored to have staff members present and answer questions on topics ranging from narrative & technical design to brand and community. A highlight was definitely the live motion-capture demonstration at our San Mateo studio which was broadcast to all camps across the country, showcasing how tech and talent bring characters to life.
On the final day of camp, parents and mentors came to the studio to see the game demos presented live. Each team was expected to have created a fully functional prototype playable from start to finish, with a vision for future development/scale.
We were blown away by their passion and creativity, and thrilled to learn that two teams we hosted were selected as Girls Make Games Demo Day Finalists – Rhythmic Robot by Vanessa M. & Koala Katastrophe by Team Koala Queens.
All finalists will have an opportunity to compete for prizes and the chance to have their game produced. The Demo Day contest will be livestreamed on Saturday, September 24 and we encourage you to tune in! You can play each of the demos on the Girls Make Games itch.io page.
We hope to host Girls Make Games again and are thrilled by the thought of future applications from GMG alumni. See you in a few years, girls!
If you're a studio interested in getting involved with Girls Make Games or hosting a camp in the future, feel free to reach out to us for some tips & tricks we learned along the way!